[fsn_row][fsn_column width="12″][fsn_text]
736 Lila Ave.
Milford, OH 45150
(513) 831-1882
Website
It's always heartwarming when our young people decide to return and make this area their home as adults – and Dr. Emily Miller, veterinarian and new owner of the Milford Village Veterinary Clinic, has done just that.
After growing up in the Loveland area of Miami Township, Dr. Emily ventured out west to the University of Colorado in Boulder for college. At that point, she had no inkling that she would spend her life caring for animals – until she graduated and took a job with Farm Sanctuary in upstate New York. "I helped hundreds of rescued farm animals," she remembers, "and it sparked my passion for caring for animals."
After attending veterinary school at St. George's University and Ohio State, she decided she wanted to return home to start her vet career. "My family's here, and I now live on the same street as my parents," Emily says. "I'm able to see them every day."
Dr. Emily worked for a couple different veterinary practices, as well as Lap of Love, an end-of-life care organization, before re-connecting with Dr. David Merry, who had founded the Milford Village Veterinary Clinic in 1978. "I hadn't seen him in over 30 years, and we ran into each other at a continuing education dinner," she laughs.
Dr. Merry asked her to do some relief work for him – covering when he was out – in 2017. That went well for both of them, and he asked her to join the practice full-time in January 2018. Emily says it didn't take her long to discover this practice was the place she was meant to be: "Everyone is so wonderful – they make it a lot of fun, and our clients are wonderful."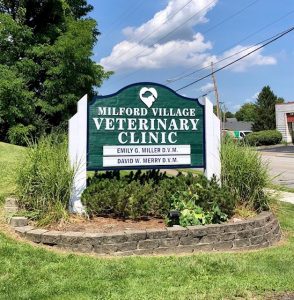 That is what led her to agree to take over leadership of the practice for Dr. Merry when he retired at the start of 2020, and it is this caring, compassionate group of people that Dr. Emily feels makes this practice different from others. "We have an incredibly caring staff, and that makes the biggest difference," she says. "I cannot express how energetic, kind, and hard-working our staff is. Everyone here takes great care of people's pets."
The practice currently has three veterinarians: Dr. Emily Miller, Dr. David Merry, and Dr. Lori Whitacre. They are available to take care of all your dog and cat health needs.
[/fsn_text][/fsn_column][/fsn_row]