[fsn_row][fsn_column width="12″][fsn_text]
Row House Gallery & Custom Framing will feature works by local artists each Saturday during the holiday shopping season starting November 14 through December 19, 2020. Gallery artists will be on hand to meet and greet customers and talk about their respective art. A special exhibit on December 5 and 6 will feature Sock Monkeys created by a group of Terrace Park Elementary 5th and 6th grade students. Row House is located at 211 Main Street, Milford, Ohio 45150.
"This year will present a different shopping experience for customers," says Nancy Meyer, owner, Row House Gallery. "We hope these artist events will allow customers to feel safe as they engage in the spirit of the holidays while shopping local. We will adhere to standard COVID-19 guidelines by expecting visitors to wear masks and practice social distancing; and, we will monitor the number of individuals allowed in the gallery at one time. We also hope that these events help our local artists, as many are struggling with the pandemic impact on their normal calendar of shows and events – most of which have been cancelled. Come visit us, and we'll do all that's possible to maintain a safe shopping environment."
The schedule of events includes the following, and except where noted, run Noon to 4 PM each Saturday:
November 14 – Robert Coomer with fine art photographic environmental portraits that depict an overall theme of fading Americana, especially with his steel series called Art in Decay.
November 21 – Angie Meehan with original oil paintings that often feature rural setting farm animals as well as scenes and figures from her life experience.
November 28 – Amy Noffsinger with small, whimsical and colorful mosaic works.
December 5 & 6 – Row House with a collection of gallery gifts including figurines, ornaments, books and more. In addition, a Terrace Park student Sock Monkey Exhibit will be on display both Saturday and Sunday (with the display open Noon to 3 PM on Sunday). Under the direction of Terrace Park Elementary School art teacher, Melissa Marker, 5th and 6th grade 2019-2020 students chose to explore the history and creation of sock monkeys. Using the original Rockford red heel socks and corresponding instructions that came with the socks, each student created a unique sock monkey learning to sew, design and embellish a fun historical stuffed animal.
December 12 – Catherine Wathen with photography, art tiles and coasters.
December 19 – Rebecca Case (writer) and Linda McCoy (illustrator) with a book signing of their new release called "Wonder."
Some of these art events will coordinate with the Historic Milford Association's (HMA) Hometown for the Holidays activities. For more details on Downtown Milford and its activities, visit https://www.facebook.com/downtownmilford.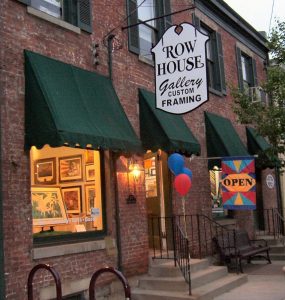 About Row House Gallery & Custom Framing
Row House is a family-owned and operated art and custom framing business located in the old mill district of Milford at 211 Main Street, Milford, Ohio 45150. Initiated in 1971, the gallery features award-winning custom framing, fine art originals by local and regional artists, limited edition prints, art posters, 3-dimensional art, art books and professional art services. Gallery hours are 10 AM to 5 PM Tuesday through Friday; 10 AM to 4 PM Saturday; or by appointment. Learn more by visiting www.RowHouse.com and Facebook.com/RowHouse; or call 513/831-7230.
[/fsn_text][/fsn_column][/fsn_row]